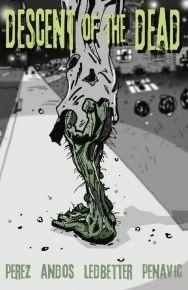 This is the first review of ZOMBIE COMIC BOOK WEEK! During this entire week, I will be posting nothing but reviews and interviews that deal with comic books AKA graphic novels. Check back tomorrow for another review and or interview.
I received an email from Rich asking for me to review his new comic book. There was a PDF attached so I looked it over, but was unable to clearly see the words, so Rich sent me a copy of
Descent of the Dead
to review.
The dead began to rise in 1968. The year is now 2176. The undead are no longer a major threat to humanity. Some would say that the world is finally going back to normal. Or so they think; humanity's worst nightmare has become reality. The dead have returned and they are hungry.
There's not much I can say about this comic. It is very new and I only have one twenty page issue to go by. The only information I got from the story was the set up. It's pretty interesting so far. The world is beginning to control the undead, but honestly; it's taken the human race over two-hundred years to recover from the undead? By then, I would have assumed that the zombies would have rotted away, but if they were some sort of "long lasting" zombie, I think humanity would have died off years before the start of this comic.
None the less, this comic was a fun, but a quick read. I did enjoy the set up, even though I think it is a bit far fetched. But what good are comics if you can't have the imagination, right? The images were fun to look at. I love looking at drawings of futuristic settings. The zombies looked a bit strange though. They didn't really look like zombies, but more of like monsters. Zombies should have that tint of a human look. These zombies just looked like aliens.
There were some pretty cool action scenes toward the end. Being that this comic is only for first issue, I didn't really understand what was going on. Maybe all of the mystery will be explained in further issues. There's only one way to find out and that is to continue reading the comic. I will give
Descent of the Dead
, 3 Undead Heads out of 5.
I have not seen
Descent of the Dead
for sale anywhere. I believe it will be available at your local comic book store soon. For more information about buying the comic, please read the interview with Rich Perez which will be posted this week.